More Information
Destinations in Huelva
Plan your Trip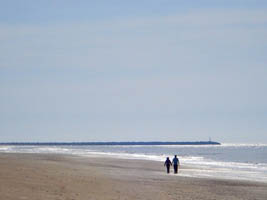 Punta Umbria is a tongue of land between the Atlantic Ocean and the "Ria de Huelva", offering wide and clean beaches of fine golden sand.

This beach boasts the "blue flag" of the European Union for their exceptional quality, and it is located very close three protected natural environments: the "Laguna del Portil"

(a lake with a big population of birds and protected species such as the chameleon), the Natural Park "Marismas del Odiel"

(17.754 acres of wetlands that are home to thousands of migratory birds in transit between Europe and Africa) and "Enebrales Punta Umbria"

(with 29.652 acres of juniper forest).

Punta Umbria was inhabited since ancient times by Phoenicians, Greeks and Romans. In "El Eucaliptal" have been found Roman remains from the 5th to the 2nd century BC, such as houses of fishermen or manufactories producing salted fish.

But the village, as we see it today, dates from the 19th century, when the British arrived to Huelva founding the mining company "Rio Tinto" and chose Punta Umbria as their beach resort.

While Punta Umbria is very quiet in winter, during the summer season it becomes an ideal destination for those seeking a lively nightlife or a wealth of entertainment.

Other attractions in Punta Umbria are the ideal conditions for water sports such as sailing or surfing, and its fishing port, one of the largest in the area. It is very interesting to watch the fishermen return to the port in the morning or to go to the fish market to buy delicious fresh fishes.