More Information
Destinations
Plan your Trip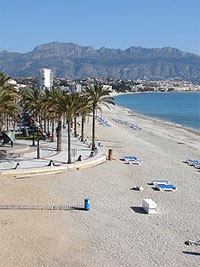 Already its very special situation suggests that Albir has something for everyone: the village is situated between Benidorm, the center of leisure and nightlife, and Altea, the enclave of peace and authenticity of the Costa Blanca.

Albir is a very neat town, much quieter than, says, Benidorm, with lower buildings, wide roads and ample parking. The hotels are thoroughly modern and well equipped and offer a good balance between quality and price. Therefore, Albir is popular with visitors from across Europe and offers an almost cosmopolitan atmosphere.

Thanks to its pleasant climate, with mild winters and dry warm summers, outdoor activities can be held in Albir all year round. Accordingly, there are the Cinema Festival, the Jazz Festival, established in October, and furthermore there are numerous concerts and dance performances with artists from around the world.

The wide beach "Racó de l'Albir", with fine gravel, offers a beautiful view of the Peñón de Ifach to the left and the mountains of the Sierra Helada National Park to the right hand. You will find many tourist facilities, including windsurfing, a sailing school, a diving center and boat rentals.

Because of its cleanliness and good facilities, the beach of Albir regularly is awarded with the "Blue Flag" by the European Union.

The palm-lined beach promenade, which runs from Albir to Altea, has been nicknamed by the locals the "Star-Promenade", because in its ground are embedded stars with the names of all the artists who have been awarded in the Cinema Festival.

Near to the lighthouse of Albir, there are three very beautiful, secluded coves, which are visited specially by nudists: La Mina, El Metje and Cala del Amerador.