More Information
Destinations
Plan your Trip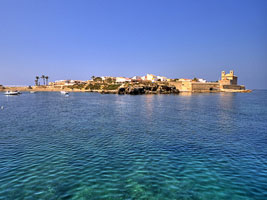 The island Tabarca is located 4,97 miles ahead of the coast of Santa Pola, and 10 miles from the port of Alicante.

It has a length of 1800 meters, a width of 400 meters

, and it is the only inhabited island in Community of Valencia: in 2009 there were exactly 73 inhabitants. Together with the tiny islands La Cantera, La Galera and La Nao it forms a small formt sie ein kleines archipelago.

The island was first a refuge for berberian pirates, before King Carlos III. ordered in 18th Century to fortificate it. He repopulated it with fishermen from Genoa whom he had redeemed from the hands of the pirates and were being held captive in the Tunisian city of "Tabarka" (Tabarqah). Therefore, the settlement on the island received the name "Nueva Tabarca" (New Tabarca).

Today three gates are conserved from the old fortifiaction walls, which, together with the watch tower "Torre de San Jose"

, the church "Iglesia de San Pedro"

and the "House of the Governor" are the most important landmarks of this picturesque fishing village

.

The coast of Tabarca offers wonderful sandy beaches, and many divers are attracted by the rich and colorful underwater world with fish banks, star fishes and many kinds of algae.

The island of Tabarca can be accessed from Alicante, Santa Pola, Guardamar, Torrevieja and Benidorm by ship.