More Information
Destinations
Plan your Trip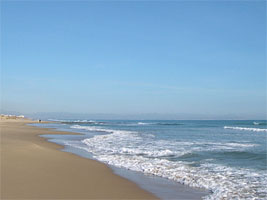 Guardamar del Segura is located in a beautiful scenery, with sandy beaches surrounded by a vast pine forest

. The forest was planted in the beginning of the 20th century in order to halt the wandering dunes

.

Today these sandy beaches of Guardamar are a true paradise for tourists. The most lively are the beaches Centre and La Roqueta, while El Camp, Les Ortigues and Els Tossals are quieter and more natural.

Els Tossals, also called Los Tusales, is in part a nudist beach. For its very good installations it received the award "Q for high touristic quality".

The mouth of the river Segura creates the beautiful natural setting "La Gola del Segura", which is located right at the sports and fishing port Guardamar, the so called "Marina de Las Dunas". Here you will find a plenty of facilities for many kinds of water sports such as sailing, windsurfing, or water skiing.

Also for golfers Guardamar is an ideal destination: within just 20 kilometers there are no less than five golf courses. The closest is "La Marquesa" with 18 holes.

In the south of Guardamar there is the natural park "Laguna de La Mata", wetlands which are home to many species of water birds.

In "Ribera del Río Segura" and in the park "Alfonso XIII" there are many bicycle lanes and hiking trails which invite us to do a bit of sports.

For the historically interested we would like to mention the archaeological findings of "La Rábita Califal" and "La Factoría Fenicia" ("Phoenician factory") and recommend a visit to the Archaeological, Ethnological and Paleontological Museum. Here you can see many exhibits of the old-iberian and phoenician civilizations, which have been found around Guardamar. Of the most famous find, the statue "Dama de Cabezo Lucero", only a copy can be seen as the original is today in the museum of Alicante.

At the port of Guardamar you can book an excursion by ship to the island Tabarca, without any doubt a very attractive destination.

Well known is also the gastronomy of Guardamar, with good rice dishes and plenty of fish and seafood.