More Information
Destinations
Plan your Trip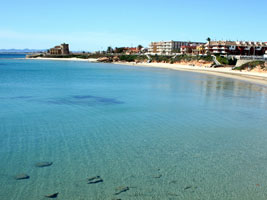 Pilar de Horadada is situated at 45 kilometers from Murcia, 68 kilometers from Alicante and 19 kilometers from Torrevieja.

It is one of the rather quiet tourist resorts along the Costa Blanca, and one still finds natural and almost desert beaches.

There are both wide beaches with bright, almost white sand, and small, protected bays, usually with golden sand.

The beaches of Pilar de Horadada usually fall off very flat and are therefore considered particularly safe. Because of the high water quality, they have been awarded by the EU with the "blue flag". Because of the rich underwater world Pilar de Horadada is also a popular destination for divers.

Climatically, Pilar de Horadada is the driest region of the coast with annual rainfall not exceeding 300 mm. The pleasant climate, the large range of services and the modern urbanizations are probably the reasons why many foreigners have settled here for all the year round.

Pilar de Horadada is also popular with sailers who find numerous berths at the Club Náutico. Numerous regattas are hold, and during the summer months you can attend a sailing course.