More Information
Destinations
Plan your Trip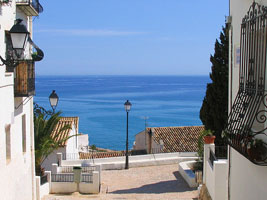 Altea is one of the most beautiful towns along the Levantine coast. It is situated on a hill, with streets that slope gently towards the sea. Trademark of Altea are its many towers.

The Mediterranean ambience and the almost year-round spring-like weather make Altea ideal for those seeking rest and relaxation. Thus in the course of time many artists, especially writers, painters and sculptors have settled here and Altea is considered an artist colony.

Most beautiful is probably the old town "El Formet",

with white houses decorated with flowers and narrow streets with cobblestones. Here you will find observation towers, but also many art galleries, bars and restaurants, which preserve the traditional Mediterranean atmosphere.

Another attraction is the fishing port and marina, from which the beach promenade leads to the old fishing village. It is surrounded by shops, cafes and terrace-restaurants.

Altea has a coastline of 6 km length, with small bays alternating with steep coastal sections.

La Roda is a pebble beach,

located directly in the town.

A very nice beach is La Olla,

with sand and stones, where you find numerous bars and restaurants. It is located face to face to the small island "la Olla". This name means "cooking pot", and there is a place on it where during winter the water really starts boiling.

Cap Negret ("black cape")

owes its name to the dark volcanic pebbles by which this beach is surrounded.

Next to the marina "Puerto Deportivo Campomanes" there is the pebble-beach El Mascarat.

The widest beach of Altea is Cap Blanch, with white pebbles and deep blue water. It adjoins with the Playa del Albir which already belongs to the neighbor municipality.

Also, there are three nudist beaches in Altea: Playa de la Solsida

, Playa Mascarat Norte and Cala de la Barra Grande.