More Information
Destinations
Plan your Trip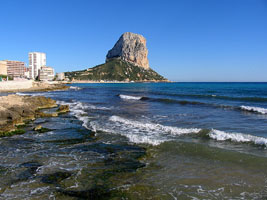 One of the most spectacular landscapes along the Costa Blanca is the "Peñón de Ifach", a bizarre rock formation with a height of eine 332 meters which is connected to the main land only by a narrow isthmus, which is located directly in front of the coast of Calpe.

Calpe itself is a very beautiful town in typical Mediterranean architecture, with ancient city walls and a port. Among the first foreign tourists in Calpe, already during the 1950ies, was the great writer Ernest Hemingway. And today it calls our attention that less than half of the inhabitants of Calpe are Spaniards.

At the port of Calpe, which consists of a fishing port, a marina and a dive center, you will find plenty of very nice terrace restaurants where you can enjoy seafood at surprisingly reasonable prices. Likewise, from here you have a great view of the Peñón, just like from the view points which you usually can only reach by steep, narrow and winding paths.

The clean beaches of Calpe, with fine and clear sand, are protected from wind and waves by the Peñón and are specially beloved for this reason by families with children. Among the best known there Playa de Levante, also called "La Fosa"

, Playa del Arenal-Bol and Playa del Cantal Roig.

The rocky bays Cala Calalga, Cala Gasparet, Cala Les Urques, Cala La Manzanera, Cala el Racó, Cala del Peñón and Cala Les Basetes are ideal for diving and fishing.

Interesting are also "Los Baños de la Reina",

the remains of an ancient Roman fish farm from 4th century, which are located directly at the sea next to the town.

Another sight is the old watch-tower "Castell del Mascarat" from 16th century, which was built over the ruins of a Moorish castle. From here you have a wonderful view over the entire coast.

Close to Calpe there are also several natural parks: Parque Enginent, Parque de la Vallesa with an extension of 10.000 square meters, and Las Salinas, a lagoon which was already used by the ancient Romans for salt production and which today is an important protection area for birds.