More Information
Destinations
Plan your Trip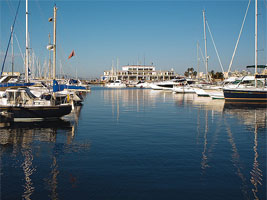 Santa Pola is located inbetween two natural parks, Salinas de Santa Pola and Sierra y Cabo de Santa Pola and disposes of beaches with a total length of 13 kilometers.

In the east there are small coves with fine sand and crystal clear water, in the west wide and flat sandy beaches.

The sandy beaches Playa Tamarit, Playa Lisa, Gran Playa, Playa Levante, Calas Santiago Bernabeu and Playa Varadero offer modern facilities (toilets, disabled access, etc.), you will find beach bars, the so called "chiringuitos", and can rent beach chairs, umbrellas, and often surf boards.

The only nudist beach of Santa Pola is Playa Tamarit, but also the nice sandy beach Playa del Carabassi, which belongs to the municipality of Elche, is not far away.

Driving from Santa Pola in southern direction to Guardamar del Segura, you will find a totally desert part of the coast, with two lonely sandy beaches which can only be accessed by foot: El Pinet and La Gola. The port of Santa Pola has a very old tradition, and is today one of the most important fishing ports on the Spanish Mediterranean coast. It is very interesting to watch the auction of the fish at the near fish market, the Lonja.

Close to Santa Pola there are the ruins of Portus Illicitanus. Here you can see the remains of an old iberian settlement from 4th century BC. Later it became a Roman town, and the remains of a salt fish manufactury, several shops, ware houses, residential buildings and of a luxury villa with beautiful mosaics, the so called "Casa Romana del Palmeral" are conserved.

Eight kilometers in front of Santa Pola there is the island Tabarca, which can be accessed by ship. It is well known for its splendid beaches and its beautiful underwater world.

Interesting buildings in the village are the old fortress Castillo-Fortaleza de Santa Pola, from 16th century, and the watch towers from the same period: Torre del Tamarit, Escaletes and Atalayola.

Also worth a visit is the Palm Park, which invites to have a stroll in beautiful environment. Another interesting option is camel riding which is offered here too.