Plan your Trip
The Regions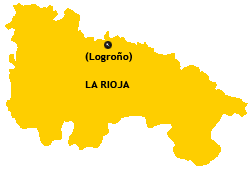 Capital: Logroņo
Provinces: La Rioja

The first thing that comes to your mind when you listen La Rioja is probably the wine bearing the same name. It is produced here, in the smallest of Spain's Autonomous Communities, located south of Basque Country at the occidental extreme of Ebro valley.

Haro is the center of wine production, and a well-known folkloristic event is its annual "battle of the wine".

Of major touristic interest is the the Way of Saint James (Tip!

), a part of which leads through La Rioja. The monasteries along that way are not only of high artistic but as well cultural importance, here was written the first text ever in Castilian Spanish.

Along the Way of Saint James there are monumental towns of great beauty lined up: Calahorra, Arnedo, San Millan de la Cogolla,

Santo Domingo de la Calzada, and Logroņo, founded already by Romans and today the region's capital.





Worth a visit is as well the area Tierra de Cameros, with outstanding landscapes, grottos and caves.

La Rioja offers great possibilities for rural tourism, and if you like hunting, fishing, climbing or hiking it is certainly a place to take into consideration.

Speaking of regional gastronomy, we come back to La Rioja wine, which exists in seven varieties, four of them red and three white. Anyhow one shouldn't forget about another speciality, Pimientos del Piquillo, a delicious and sweet kind of red peppers. Highlights of traditional cooking include lamb, and the marzipan of Sierra de Cameros, of high reputation in all Spain.