Destinations
Plan your Trip
The Regions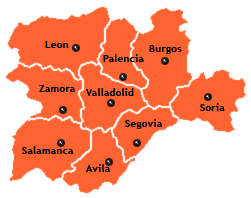 Provinces: Avila, Burgos, Leon, Palencia, Salamanca, Segovia, Soria, Valladolid and Zamora

Castilla y Leon is not only the largest region of Spain, but as well the largest region of all the European Union. The elevated plain is limited by the the mountain ranges Sistema Iberico to the east, Cordillera Central to the south, Cordillera Cantabrica to the north and by Duero river towards Portugal.

Castilla and Leon came together in 1983, when the regions of Castilla la Vieja and Leon were united. Both have been central areas of Spanish medieval history, and the importance during that epoch is still evident in many cathedrals, monasteries, castles and fortificated towns, many of which are preserved in perfect state. Apart of its great monumental patrimony, Castilla y Leon offers as well natural parks and kilometers of practically virginal nature, with woods of oaks and cork-oaks.

Gastronomy is distinguished by excellent meat, in particular of lamb, and vegetables like the famous creamy beans of Avila. Artisany and popular celebrations show a rich and varied folklore, often of archaical roots and almost unknown to a wider public.





The Cities:

Salamanca
Salamanca's great historical importance is due to its University, one of the oldest of Europe. It is a city of outstanding beauty and rich cultural heritage.

Segovia
Segovia's most famous monument is certainly its colossal Roman aquaeductus

which dominates all the town. Additional attractions include the Alcazar

and the Gothic cathedral.

Avila
A beautiful historic town, entirely enclosed by impressive Romanesque walls.

Burgos
A monumental town well worth a visit. The famous cathedral,one of the greatest examples of Gothic style in Spain, is its most outstanding attraction.

Leon
Formerly the capital of the Kingdom of León, it gave its name to the Community. The city's most famous monuments are its great Gothic cathedral,

the church Basilica de San Isidoro with valuable Romanesque frescoes, and the San Marcos church of Renaissance period. Close to Leon you may visit the legendary Roman gold mines Las Medulas.

Zamora
Zamora is a beautiful medieval town with a magnificent cathedral

and several great Romanesque churches. Nearby there are the 8th century Visigothic church San Pedro de la Nave, and Lago de Sanabria, the largest lake of Spain and the only one of glacial origins.

Valladolid
It has one of the most important sculpture museums of all Spain, and the famous Easter week processions are of great interest. The city itself is monumental, and in its surroundings there are innumerable castles.

Soria
In Soria, located at Duero river, you should pay special attention to the magnificent Romanesque churches.

Palencia
Medieval town with outstanding Romanesque monuments. Among the major attractions are the beautiful cathedral and the interesting archaeological museum.